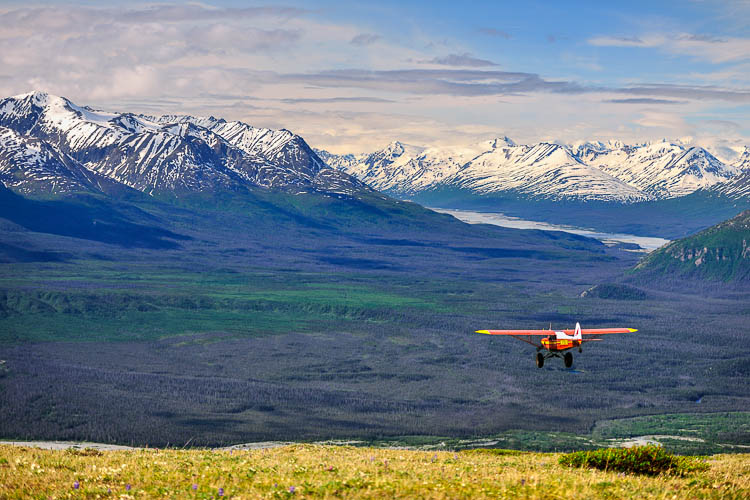 The best way to explore a vast and almost inaccessible national park in Alaska is to hop on a bush plane and fly along.
My rendezvous with the wilderness is somewhere in a forgotten corner of Alaska, around six in the evening. That is, as long as the weather holds. It's the end of June and the sun never sets in the evening. "Park alongside the log cabin and wait, but stay away from the stretch of ground beside the car park." were the instructions in the email. I am in tiny Chitina, population 150 people. The only other reason why travellers come here is to salmon fish in the fast flowing clear rivers. Chitina is a four-hour, scenic drive from the city of Anchorage and it actually feels like it's the end of the world. I am staring up at a cloudy sky, standing next to my car. In the distance, a red dot appears, following the Chitina River. A few minutes later, a shiny red DHC-3 Otter lands right in front of us on the gravel. Our taxi has arrived, with at the wheel, Paul Claus, a second generation aviator and adventurer and owner of Ultima Thule Lodge where we are about to stay for the next three days. We bundle into the Twin Otter and leave civilization as we know it behind us. Ultima Thule Lodge is located some 150 kilometres away, in the Wrangell-St. Elias National Park, stretching from Canada's Yukon Territory to the Pacific Ocean. One of the largest protected pieces of earth on this planet. No roads, no cars and almost no people, just lots of bears, mosquitos and us.Paul's father, John Claus, learned to fly in the 1950s and bought a piece of land deep in the wilderness, close to the Chitina River under the then Homestead Act. At that time, there was no question of a national park. It was just endless wilderness here. Together with his wife Eleanor, John built a modest wood cabin and a landing strip close to the river. They loved to camp out in the wild, to enjoy nature, fish, hunt and be away from it all. Decades later, when the Wrangell-St. Elias National Park was established, the Claus' were allowed to keep their piece of land and small outpost, one of the very few in this vast expanse of 53,000 square kilometres protected wilderness. "Did you know that lots of Hollywood celebs like coming to Ultima Thule Lodge because they can be absolutely sure that no paparazzi can get up here? They would never survive the wilderness," Paul smirks. "Jim Carry is a regular guest. One day I had to make an emergency flight to carry diesel to some stranded trekkers and Carry came along with me. When we arrived, I wanted to get out with the two jerry cans but he stopped me. Instead, he took the cans, changed his hair look and wearing a typical Carry expression, walked over to the trekkers and said 'Here's your diesel, folks!' I'll never forget their faces," he laughs. Just like Carry, most guests come here during the summer months to escape the world and be close to nature. Brown and black bears wander past the lodge, at night you can hear a pin drop, and the fresh air smells like freshly sharped pencils.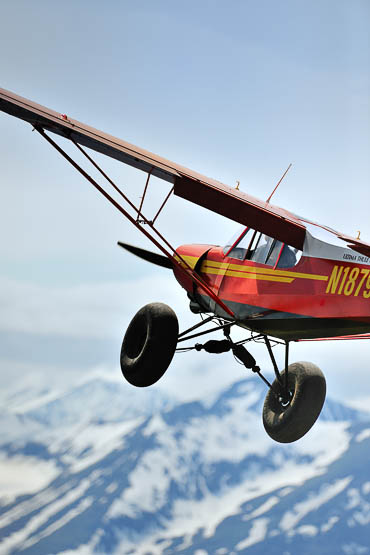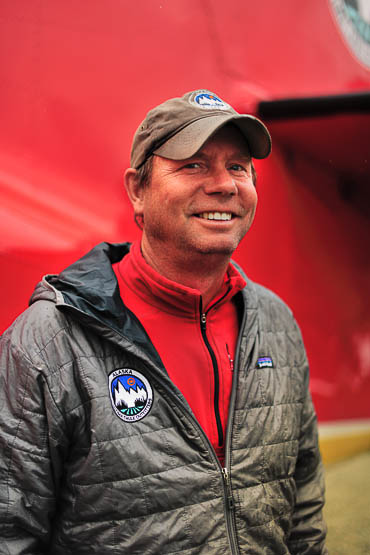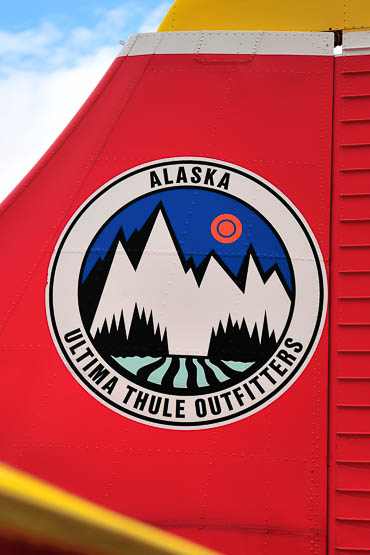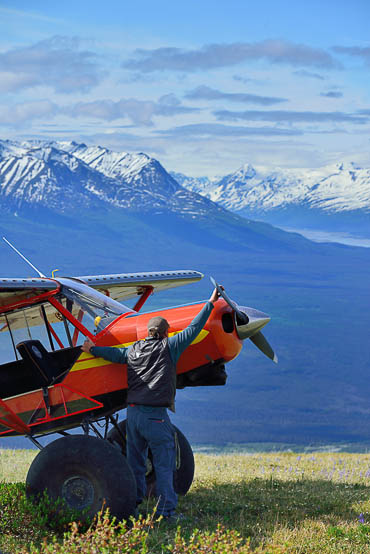 Nowadays it is mainly son Paul, his wife Donna and their daughters Ellie, Logan, son Jay and son-in-law Ben who run the lodge. Just like granddad John, who is now retired and lives in Anchorage, the family members are all pilots. No ordinary pilots, but fearless and highly skilled bush pilots. The special kind you often see on National Geographic Channel in series like Alaska's Toughest Pilots. When there is no more wine or beer, one of the family simply hops into a Super Cub and flies out to get it. The gigantic stove and sofa, plus all the other materials used to build the present luxury lodge were flown here in the Twin Otter. In the Alaskan wilderness, flying is just like learning how to ride a bike. "How do you fancy a hike up the mountain just behind the lodge tomorrow, weather permitting?" asks Paul, with ruddy cheeks and twinkling eyes during dinner. Everyone sits together at the same table: us, two other couples from New York and a mother and daughter from LA. "How in god's name will I get up that impressive mountain," I think to myself, taking a quick swig of the tasty, locally brewed Alaskan White Ale to stiffen my nerve. Paul notices my doubt and smirks. He does this a lot. "Hey, don't panic," Paul gives me a slap on my back, "We fly you to the top of the mountain in the Super Cub. Easy! From there, you hike for a couple of hours to the edge of the rock face from where we come and pick you up again, two by two, in the plane. Deal?"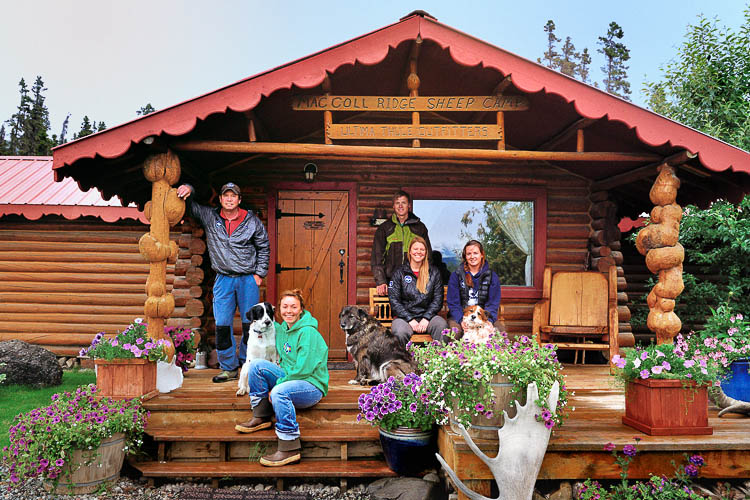 Flying with a Super Cub is just like sitting in a floating tin can, but one that weighs less than 500 kilos. Paul is in the pilot's seat with us behind him like a pair of sardines wearing headphones. "Ready?" Our bush plane called Alpha climbs quickly, as fast as a buzzing bee. "It's almost like having your own wings," says our pilot. "Isn't it?" Paul skims low across the river and then swiftly soars higher. When our captain spots a good piece of grass, he circles and prepares to land. After only a few bumpy metres on its gigantic rubber tires, the Super Cub comes to a halt. "Out you get. I've got other guests to pick up!" Within a few minutes, Paul disappears again, over the ridge of the mountain. The Alpha has no electronic motor so the propeller has to be manually turned. "He's crazy, mad!" laughs Mica Albert, a famous, American photographer who is a friend of the Claus family and is staying here for a few weeks with his pregnant wife and young daughter. Together with the two guides, we stand there, on top of a huge mountain, waiting for Paul to come back with the other two guests. Meanwhile, there's nothing but wild Alaskan nature around us. Snowy peaks in the distance and further away, glaciers and more wilderness. We walk for hours over mossy ground, with no trees, occasionally snow, and lots of spectacular views, a few wild sheep and according to one of our guides, a brown bear in the distance. The guides always carry a gun, standard kit when you are out walking in Alaska. That evening, after a healthy hike, we hear more Alaskan-style stories at the dinner table. A few weeks earlier they had to shoot a grizzly bear. "The poor bugger constantly came to the lodge and it wasn't afraid of the dog or other noises. That's when it becomes dangerous. When one of the girls went outside in the evening, the grizzly was standing just a few metres away from her. Enough said," explains Paul. Meanwhile, Ellie and her sister are cooking dinner, a gigantic (self-caught) salmon in the oven, served with organic vegetables from their own garden. While I am having a drink at the counter, Ellie tells me that as well as being a bush pilot, her husband Ben is also a helicopter pilot with the American army, at present posted in Afghanistan. "He'll be back in a few months. It is safer here than out there. Even with the occasional bear in the garden."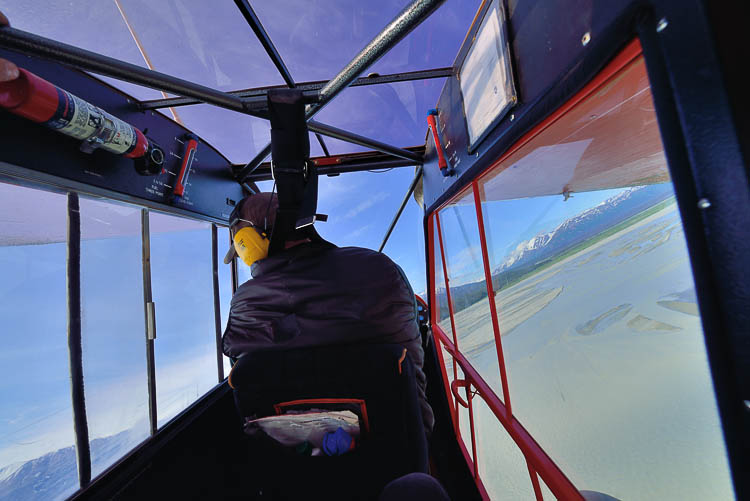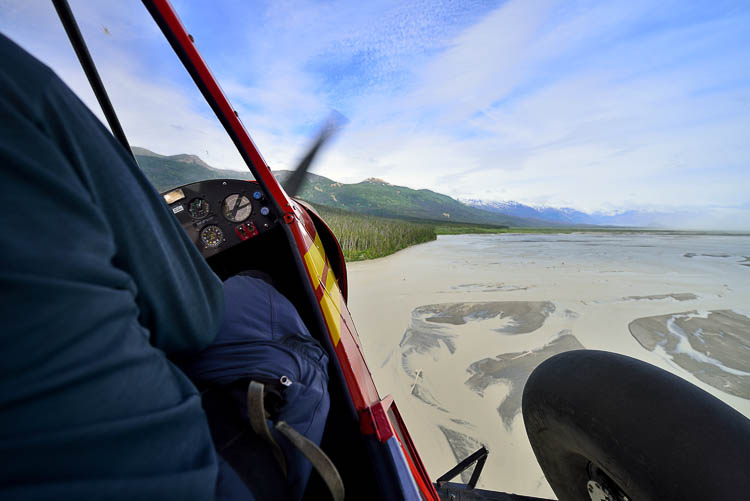 The charismatic Lonie Habersetzer is one of the bush pilots working here in the summer. In winter he swops Alaska for the skies over East Africa. "Extremely different places but equally challenging to fly around," says Lonie as he prepares the Super Cub for departure. On today's programme, bush plane sightseeing, lunch in a beautiful spot and a few surprises, according to Lonie. The Super Cub is so agile and light that skimming the surface of the Chitina River isn't really a problem. Lonie navigates the Alpha through narrow passages, the tip of the aircraft just a few metres from the rock face. Suddenly, the temperature inside the Super Cub drops dramatically. We are close to the Chitina glacier where Lonie effortlessly lands the Alpha. We are just beside an enormous, deep blue crater in the glacier where ice melt rapidly flows into the abyss. A short time later, he puts the Super Cub down on a sandbank near the river. Time for lunch, gun beside the cooler because some bears are also known to be fond of delicious, grilled vegetable wraps. "Later, when you see a spot you want to photograph, just let me know," says Lonie. "Maybe I can land, who knows. You have to enjoy every moment here because we are visiting places where only a handful of people have ever been. This wilderness is dangerous and risky for humans. Thanks to our little planes, we can reach them more safely." A little later, Lonie parks the Alpha in 1,2,3 on a piece of grassy meadow that abruptly ends in a treacherous void. As we gaze out at the landscape, Lonie keeps an eye on the clouds and mist gathering behind us. "The weather changes fast here. If these clouds reach us, we may have to stay here overnight. Let's go!"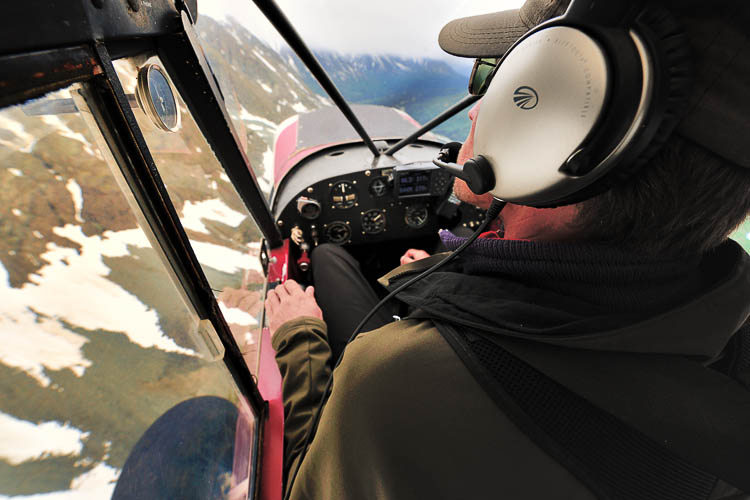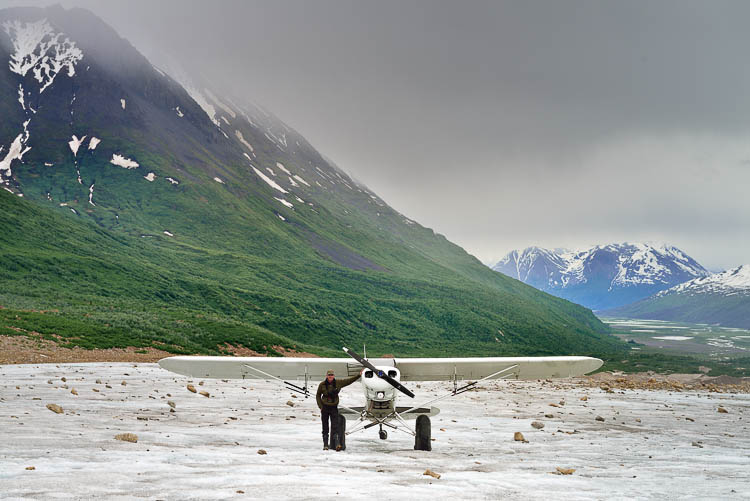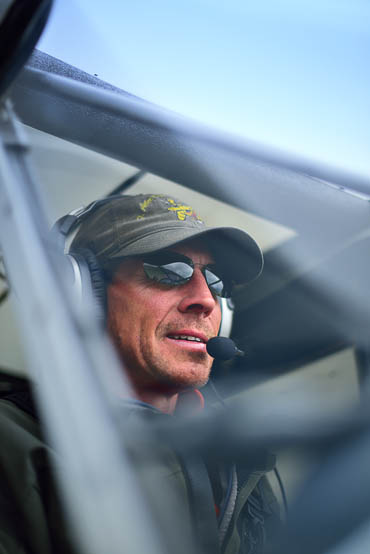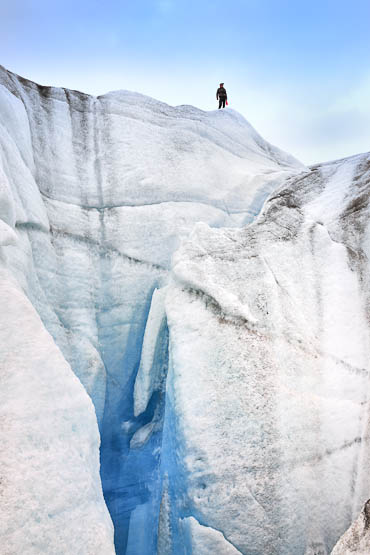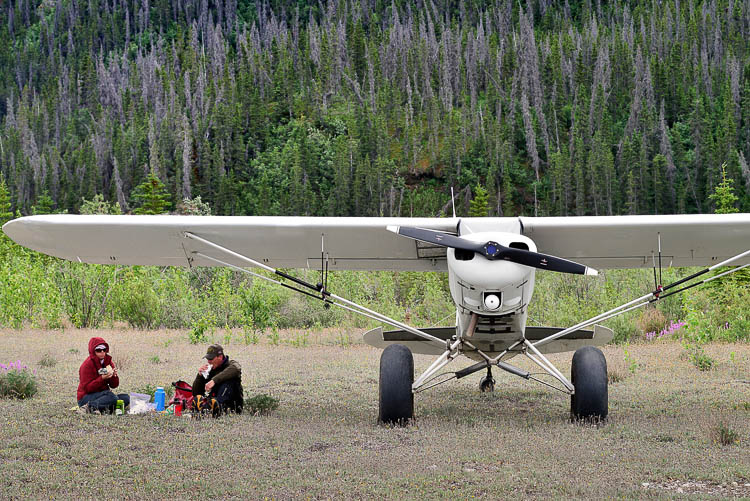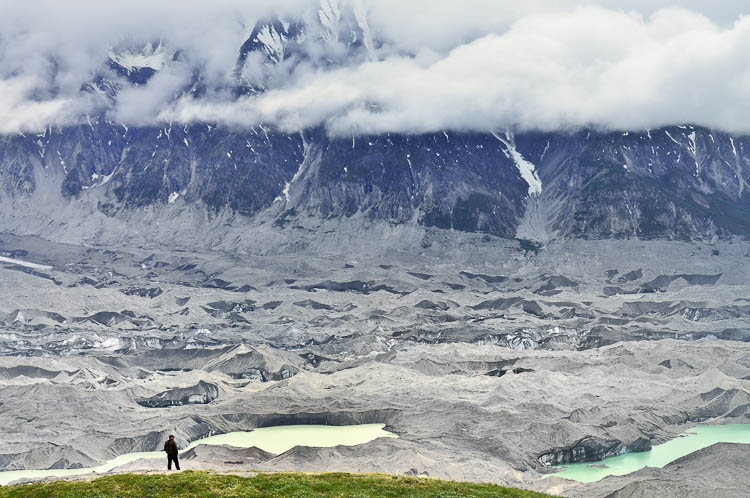 Back at the lodge, the Claus family is busy in the kitchen. It almost feels like coming home after a day at work. On the menu roast lamb and other delicious homemade treats. Nothing fancy, just hearty food. After our Super Cub adventure, we enjoy the comfort of our cosy, wooden log cabin with its fluffy, giant bed and high thread count linen. In the main lodge, new table guests join us for dinner. The three Alaskans arrived by helicopter and take care of the maintenance of weather stations scattered throughout the park. There are never more than 12 guests in the lodge, so the atmosphere stays intimate. We ask Paul what's on the programme for the next day even if we know already his answer. "Friends," he says, while grinning, "We are in the deep, Alaskan wilderness. I can't tell you right now. Maybe I'll fly you to an abandoned gold mine, or we'll go rafting on the Chitina River. Or perhaps we'll fly over the peak of Mount St. Elias, the highest vertical rock face in the world. If the weather is fine, I can even take you to the Atlantic Ocean. A few days ago, one of my other planes flipped over when landing on the beach. Nothing serious, but I don't want any bears to find it and reduce it to scrap metal." Paul takes a gulp of Alaskan Ale and looks wistfully out of the window towards the river in the distance. "No single day is the same here, the wilderness decides. Take it or leave it."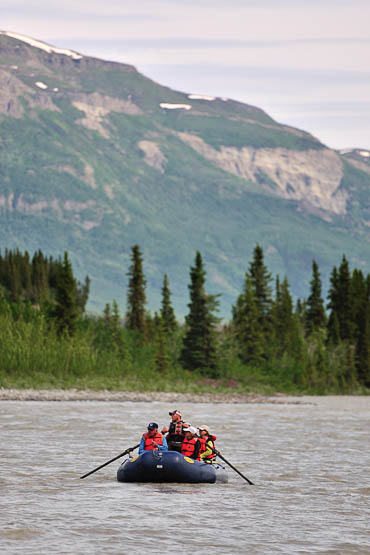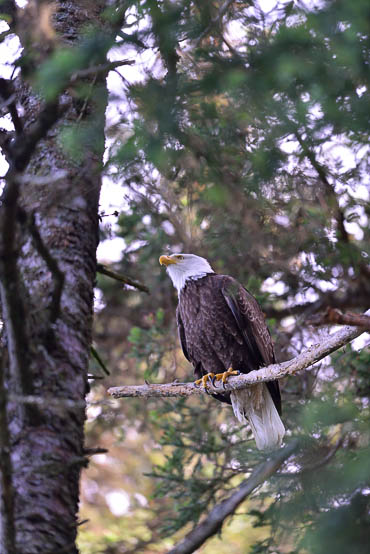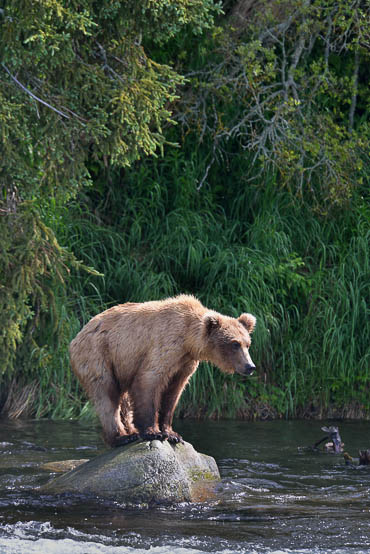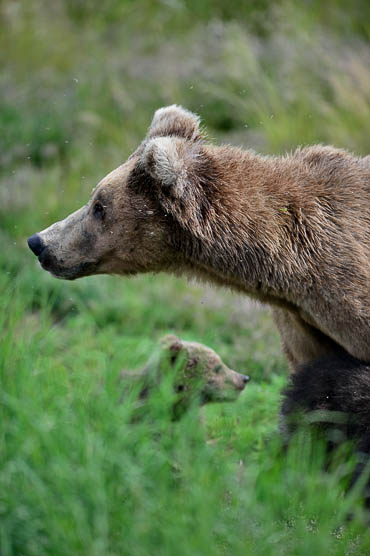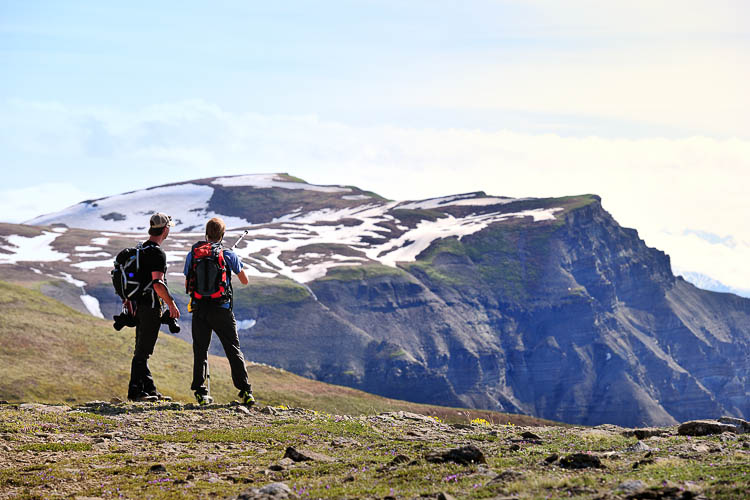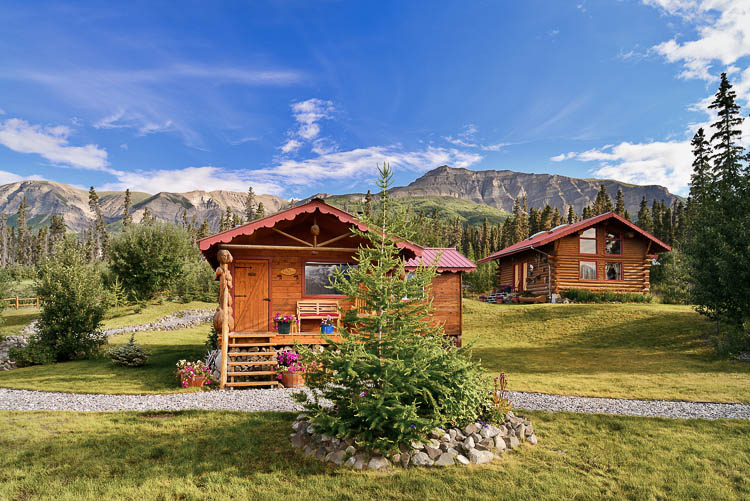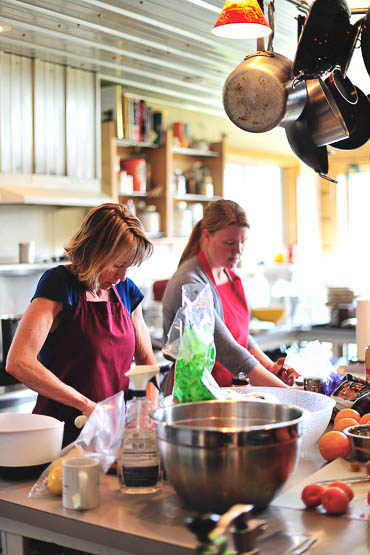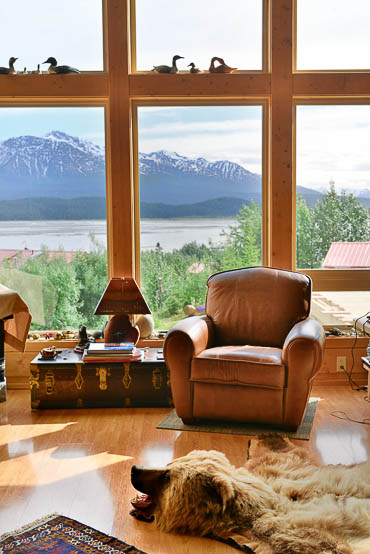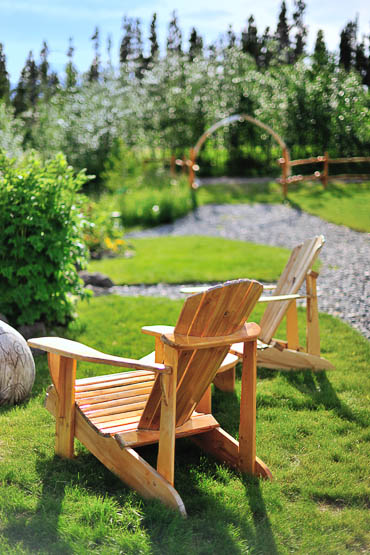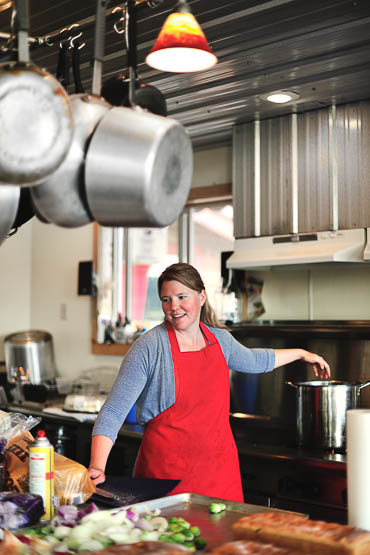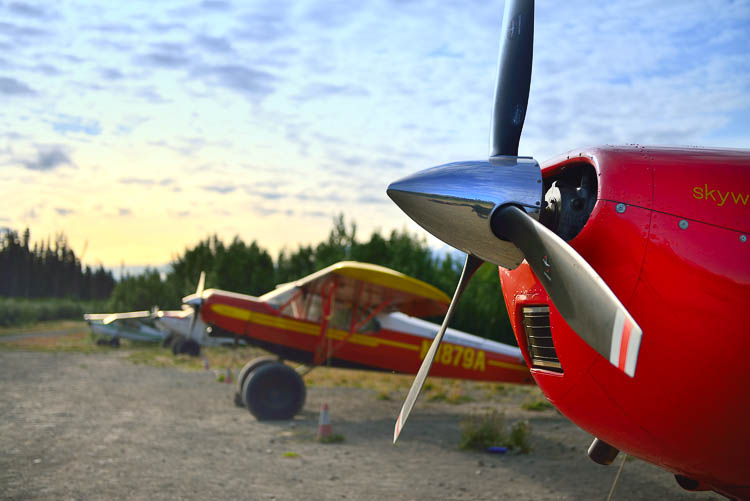 THE VERDICT Ultima Thule was the highlight during our almost 3-weeks trip in Alaska. Seen its price tag, its obviously not very everyone, but for those who can afford it, this is THE way to see and experience wild Alaska in style. Ultima Thule Lodge is cosy and comfortable with fantastic beds hidden in warm cabins and superb home cooked food in the middle of the big wilderness.

THE COST  Expect to pay $1,700 per person / per night with a 3 nights minimum stay. This includes a DHC-3 Otter flight to and from the lodge to either Valdez or Chitina, all bush plane flights, a tailor-made and unforgettable adventure each day, senior guides and any necessary equipment/gear, organic and wild Alaskan gourmet meals, complimentary selection of specially selected beer and wines, lodging in a private, multi-room deluxe cabin and unlimited access to sauna & self-spa and satellite internet.

WWW.ULTIMATHULELODGE.COM

HOW TO GO We travelled first to Anchorage, which is a quirky and charming city, perfect as a base to explore Alaska. If you are based in Europe, check out the new connection with Icelandair, linking lots of European cities via Reykjavik to Anchorage. This connection gives you the opportunity to experience two amazing countries such as Alaska and Iceland in one trip and with one flight ticket.

WWW.ICELANDAIR.COM

CLIMATE The best time to travel to Ultima Thule is from June to September. The weather in Alaska can be unpredictable so dress for 4 seasons in one day. During summer months expect temperatures between 5 and 20 degrees Celsius. When the sun is out it's hot and you will be happy in a T-shirt but when it's foggy and rainy you definitely need a good water- and windproof jacket, especially when flying in the Super Cubs and landing on glaciers or mountain tops.

WHAT TO PACK Try to protect yourself and your gear from very changeable weather. Waterproof jackets, pants, thin gloves, good walking shoes and a backpack or bag, which can handle the wild (check out our preferred gear here). Don't forget to pack a pair of good binoculars, we swear by Swarovski Optik. Do bring plenty of mosquito repellent and a mosquito net to cover your head when the little buggers are a bit too numerous.