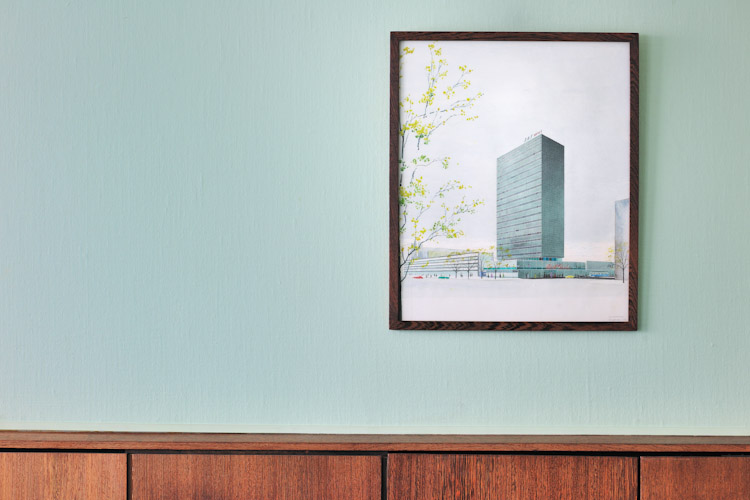 Although the apartment hotel STAY is still our number one in Copenhagen – think afordable huge, lofty rooms with lots of space and smart, Danish design – we have to mention the first design hotel in the world. To be specific, it's room 606 of the Radisson Blu Royal in Copenhagen that drew our attention.
Forget Schrager and Starck as the pioneers of design hotels. It was good old Arne Jacobsen who created in 1960 the first design hotel avant la lettre. The hotel was integrated in the SAS House, built for the Scandinavian Airlines System. Only the full name of SAS makes you think back to those glamorous days of being stylishly up in the air. This SAS House was not only the first high rise building of the city but next to the luxury hotel it also had an airline terminal where SAS guests could already check-in before hopping on the train to the airport. Remains of this terminal are still to be seen while standing on the treadmill or doing some yoga. In the gym, the ceiling is still the old, concrete one from in the sixties.
But time does not stand still; neither do the wrong kind of interior designers. 50 years on and the Radisson Blu Royal Hotel has unfortunately been completely redecorated. Only room 606 has been carefully preserved and remains identical to Jacobsen's original commission. The room can be seen as a microcosm, a compressed version of the whole building itself – and a way to understand the underlying themes of Jacobsen's style and vision. Also the lobby is still very smart with the marble staircase and the elegant Swan Chairs. For beautiful vista's over the city, head for the Albert K restaurant, on top of the building. Good food, Jacobsen crockery and of course Copenhagen in 360 degrees views.
Room 606 at the Radisson Blu Royal Hotel does come with a price tag: DKK 4900 (650 euro) per night, based upon two sharing, and includes breakfast.
WWW.RADISSONBLU.COM/ROYALHOTEL-COPENHAGEN